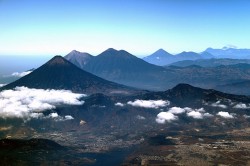 Once you arrive at the airport in Guatemala City, there are several ways which you may consider for transportation to Antigua.
Taxi:
A taxi to Antigua, taken at the airport, is approximately US$40 – $50 for a one way trip. 2 or 3 people will have to be negotiated with the driver for the best price. Bear in mind that taxis are not late model cars and that the road to Antigua is a winding one with changes in elevation from 4900 ft. to almost 8000 ft. You cannot choose your taxi as they are in a constant queue just outside the exit door of customs at the airport, unless you wait for the desired taxi to be the one that leaves next. You will be lucky if you can get a recent model.
Shuttle:
There are shuttle services that operate from the airport to Antigua. Their tariffs run approximately from $15 to $20 per person and their schedule is not a set one. They will depart to Antigua once they believe they have enough passengers to make the run a profitable one.
Private car:
The school can arrange for someone to meet you at the airport after you have passed Immigrations and Customs formalities, and bring you to Antigua. You must have a place of destination in advance in Antigua.
The fare for this service is $40 for one person, $50 for 2 and $60 for 3 with limited luggage.*
If you are staying at the school's rooms/casitas, you are entitled to a one-way free transportation from the airport to the school. The ride is free from Guatemala City to Antigua only.
Do not forget to provide a short physical description of yourself in your Application Form – it will help us to identify you more readily.
*If the airplane lands after 10:00 p.m., there will be an additional charge of US$10.