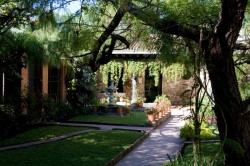 About the School
San Jose El Viejo was the first school to be accredited by both the Ministry of Education of Guatemala and the National Tourist Commission. Nowdays, we are one of the leading schools in Antigua and the most professionally run.
The school is situated next to the ruins of the chapel of San Jose el Viejo (3 blocks away from the Central Plaza of Antigua). The school building, used to be part of the church.
One teacher per student
A different teacher every week (the student may keep the same teacher as long as she/he has not been requested in advance by another student).
Classes begin every Monday.
32.5 hours per week from Monday through Friday (8:00 – 12:00 & 1:30 – 4:00 p.m.).If the student is unable to start on Monday, it is possible to study Tuesday-Saturday if requested in advance.
Teachers have been specially trained in Spanish grammar and conversational Spanish.
The school provides to each student and teacher a well illuminated cubicle in a beautiful garden setting. The teaching areas are equipped with 2 comfortable padded chairs, a table and whiteboard.
Text books, exercise books, and dictionaries are provided free to the student while attending the school. A $20 deposit is required for the books and it is reimbursed when the books are returned.
The majority of our teachers are Certificated Primary and Secondary School Teachers and have been previously trained and required to pass a written test and oral exam in order to qualify as a teacher for San Jose el Viejo.
Prices per week of classes (Monday to Friday)
Full day (8:00 to 12 noon and 1:30 to 4:00 p.m.)
4 hours (8:00 to 12 noon or 2:00 to 6:00 p.m.)
2 hours (2:00 to 4:00 p.m.)
Extra hours of classes Monday to Friday and/or Saturday or Sunday may be arranged.
Lessons & Accommodations Prices
The school does not provide classes on the following dates due to National holidays and therefore, these are non-refundable: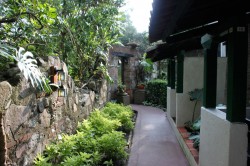 Jan 1st: New Year's Day
March/April Easter: Thursday and Friday
May 1st: International Labour Day
June 30th: Army's Day
July 25th: Antigua's Day
Sep 15th: Independence Day
Oct 20th: Revolution Day
Nov 1st: All Saints' Day
Half day of Dec. 24th and Christmas Day
Half day of Dec. 31st.